Studio B COVID-19 Updates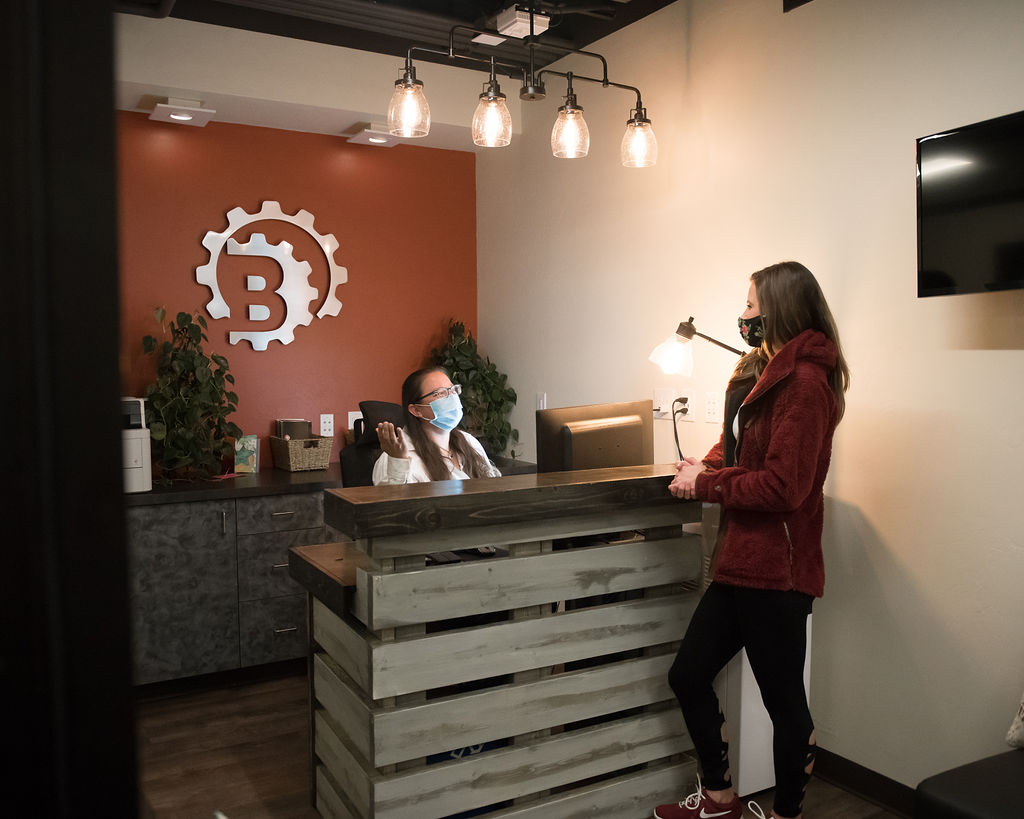 While working with us at the Studio, we ask that you do your part to help us protect all our member-clients and team members. We want to stay open and stay available to serve you.
Please:
Wear your mask correctly (up over nose and mouth) throughout your entire visit. If you are unable to do so for any reason, we are happy to schedule your visit through our Telehealth options.
Keep 6 feet of distance between yourself and other member-clients & team members – you are free to wait in the building hallway if needed. 
Please stay in the main building hallway if you are going to take a phone call or want to talk with others in your party
Use good hand-washing practices. Wash for at least 20 seconds or sing yourself Twinkle Twinkle Little Star 2x. 
Thank you for helping us keep you safe!
The Studio B Team!
To comply with local and state directives we have limited our in-office staff and clients to 10% of our capacity and work to make sure we are not using the same treatment room for back to back appointments. We have moved the majority of our providers and member-clients to online platforms. We have also added air filters to each room to maximize our ability to keep you and our professionals safe.
Our behavioral health staff is using a HIPPA secure telehealth system to seamlessly continue your therapy and we have placed all in person groups, courses, and classes on hold. Please speak directly with your provider if you would like to meet in person. More information on the telehealth system is below.
Our fitness and wellness team continues to see clients one on one, or in groups with members of the same family, as that is the maximum we can have in the space at one time within the 6 feet social distance guidance. We have placed all group training, courses, and classes on hold until we have the technology to create safe and effective workouts for you.
We have been brainstorming ways to continue to meet your fitness and wellness goals and develop our behavior and balance courses using technology and remote training options. We will be rolling out increased availability using these methods soon.
If you have a reason to be stopping by the office, please know that masks are required. If you do not have one, we have some disposable masks you can use on our front desk, please help yourself. We have also completed the San Juan Basin Health Department's certification and have posted signage in accordance with their suggested policies and practices.
Extra Resources and Continuing to Be Social
For many, it is a difficult time. Please make sure you are getting enough "social time" through other avenues like technology, getting outside or in the sun daily, getting enough sleep, but not too much, are getting daily movement in, and are working to eat well.
It is also helpful to set up a routine for yourself. Routines help us feel safe.
If you need extra support you can visit: www.stacyreuille.com. On the resources page, you will find Stacy's curated Spotify playlists, Pinterest boards, and YouTube channel where you will find a number of videos to help remind you of your therapy exercises and skills to keep you working toward healthy coping when we are not together in the treatment room. There are also links to the videos and meditation pages on her site as well.
We know this is difficult and we are grateful you are willing to work through this time with me. We will do our best to make sure we are ready, technology is running smoothly, and we have a great session even though we are miles apart.  We are learning alongside you during this time. We are glad technology allows us to continue support during this uncertainty.
HIPPA secure TeleHealth Behavioral Sessions
We have moved all behavioral health appointments to televideo for the time being. If you log into your simple practice portal you should see your new "location" as video. Your reminder for next week's appointment will include a link to the video "room".
Telehealth sessions are currently part of your client portal. You do not need any special software but will need to download the application prior to our session. The information needed to download the application will come with your private video link to the "room". Just a computer or phone with a camera.
Your reminder will include the "room" link and we will contact you via this link when it is time for our session. Your provider will call you from the "room" using this streaming service and we will have our session from the comforts of our own spaces.
This helps make sure we are caring for our neighbors, local front line health care teams, and those who may be at high risk for complications of COVID-19.
If you do not have a computer or phone with video capabilities please let us know and we will figure out how to meet for your scheduled session.
Information for setting up your telehealth "room" can be found here.
Getting Started with Telehealth: https://92d.c0f.myftpupload.com/wp-content/uploads/2020/08/Simple-Practice-ClientPortal-Telehealth.pdf
For help with your Simple Practice Client Portal See This PDF: https://92d.c0f.myftpupload.com/wp-content/uploads/2020/08/ClientPortal-Onboarding-2020-1.pdf
All Doing Our Part
By slowing the transmission we help our community, especially our health care workers, stay on top of helping and we increase the supplies and services for those most in need. We know this is a very hard time for many of us and we are all working to remain focused on taking care of ourselves and our neighbors. By doing our individual part we help our community be stronger and more resilient to the stressors of this virus and all the surrounding chaos we are experiencing.
Please remember to practice good hygiene and wash your hands … A LOT!!! The tricky thing about COVID-19 is that the incubation period is 2-14 days; people can be infectious and contagious before they even show symptoms. Thus, the broad spectrum recommendations for social distancing and widespread closures in order to attempt to mitigate the spread of the Coronavirus.
The CDC is continually updating its recommendations regarding COVID-19. Visit their website for the most up-to-date information: https://www.cdc.gov/coronavirus/2019-ncov/index.html You may also call CO Help at 1-877-462-2911 for general COVID-19 questions.
Ready to Create Your Self?